Melvin E. Page, DDS.(1894-1983)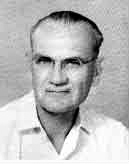 Dr. Melvin E. Page was born in 1894 in Picture Rocks, Pennsylvania. He was the son of a physician and the eldest of three brothers, two of whom were successful inventors. Dr. Page was one of the early pioneers in nutritional biochemistry.
After one year in college, Dr. Page discontinued his studies and embarked on a career as a school teacher. He gained a position as master of a one room schoolhouse in Rosebud, Montana, during which time he was forced to hunt wild game for food, make corn meal cakes and eat whatever he could attain from the dry land farmers. In winter the temperatures averaged 25 degrees below zero. After two years, he decided to return to the University of Michigan where he obtained his Doctor of Dental Surgery degree, was made Captain in the ROTC, became middle weight boxing champion, and a member of Sigma Epsilon Fraternity.
In 1919, Dr. Page began a successful dental practice in Muskegon, Michigan. where he became known as one of the top prosthodontists in the country. He invented dentures based on engineering principles which diminish trauma, the loss of vertical distance, and the loss of alveolar bone kept to a minimum. During this time he also became aware that it was necessary to remake the classic dentures for many of his patients within two and one-half years. Their mandibles (jaw bones) would resorb under the dentures and bridges. This is a common problem that still exists today owing to inadequate nutrition caused by over consumption of refined carbohydrates and white sugar.
In a quest to learn why the mouths of his patients deteriorated. Dr. Page studied Dr. Weston Price's work with primitive people and started his investigations at Mercy Hospital and Hackley Hospital in Muskegon. He ran more than two thousand blood chemistries and discovered that no absorption of bone occurred (and no cavities) when the calcium to phosphorus ratio were in a proportion of 10 to 4 in the blood. The Department of Dental Research of the United States Air Force confirmed his findings of a calcium/phosphorus ratio to be correct 42 years later. Dr. Page also found, according to test readings, that the blood sugar level should be at 85, plus or minus 5 (Sclavo test) and that resorption would stop when restoring the 2.5 ratio of calcium to phosphorus.
Thus, the basic research of Dr. Page uncovered the knowledge that white sugar and refined carbohydrates increases serum calcium. Calcium is drawn from the bone tissue and is then carried in the serum calcium.
Dr. Page was the youngest man to have been on the staff of either hospital. His idea that diet and nutrition could cause a biochemical condition affecting the teeth, and the fact that he dared to suggest that patients should change their eating habits and eliminate white sugar and white flour from their diet was beyond acceptability. He was ostracized by his professional colleagues for his approach and so he temporarily terminated his research in blood chemistry at the hospital.
Dr. Page decided to leave Michigan and resettled in St. Petersburg, Florida. While waiting to acquire his dental license, he became a deep sea commercial fisherman. Once again, difficult times drove him back to nature and the outdoors which he loved. This love permeated the very heart of the practice which he established in Florida in 1940 and continued until his death. At the age of 84, this nutritional pioneer still walked a mile to and from his office almost daily. His treatment and philosophy was simple and logical.
The harmful effects of the use of white sugar and refined carbohydrates can't be ignored.
The harmful effects of using chemical additives and other food preservatives for the sake of "shelf life" upsets body chemistry
Using whole food Vitamins concentrates, Minerals and Digestive Enzymes to supplement daily food intake might be necessary.
That milk is not the perfect food for everyone.
While in St. Petersburg, Florida Dr. Page developed a set of measurements from the elbow to the wrist and from the knee to the ankle which reflected genetic disposition. These anthropological measurements became the backbone of his practice using micro doses of endocrine extracts to balance the body chemistry from his measurements. Since most of his patients were at his clinic for a minimum of two weeks, Dr. Page would track them by checking their blood chemistry and especially the calcium phosphorus ratio every three to four days.
The Page Food Plan was developed during this time not because Dr. Page was trying to create a diet but simply because he noticed certain foods upset the body chemistry more than others. His food plan was developed on the glycemic index encouraging patients to eat unlimited quantities of green leafy vegetables. Ironically, today Dr. Page is better known for his diet than for the anthropological measurements which are amazingly accurate.
In the early 1960s Dr. Page found himself and his method of practice under scrutiny from the federal government when he was indicted for practicing outside his scope of practice. After a lengthy trial in which Dr. Page introduced over 3600 case studies and was able to substantiate his findings with over 40,000 blood tests as well as 35 years of research a federal judge found him not guilty. The judge went on to reprimand the American Medical Association and the FDA for not trying to figure out what he was doing rather than harassing him.
Dr. Page was a member of the Academy 100 of the State of Florida, of the New York Academy of Science, and the International Society for Comprehensive Medicine. He was a life member of the American Dental Association. He was a Fellow of the International College of Applied Nutrition and of the Royal Society of Health (England). Recognition certificates from many associations and professional fraternities, too many to list, lined one complete wall of his office. He published numerous articles on his work in nutrition in such periodicals as the Journal of the American Dental Association, Applied Nutrition, the Western Society of Periodontology, Nutrition and Health, Prosthodontics, the Dental Digest and Prevention Magazine as well.
Dr. Page was a true pioneer in his work and research. He went ahead with his ideas despite tremendous adversities launched by colleagues in the dental and medical profession, as well as the press and others who scoffed at his forward-thinking ideas.
Only today are we gaining a fuller understanding of the value of Dr. Page's research into Calcium-Phosphorus levels and how it works in the balancing of body chemistry. His unique system of graphing the endocrine system has proven extremely valuable in determining a more encompassing comprehension of a person's genetic potential for life. Dr. Page, using the system he developed, consistently was successful in healing many of the degenerative diseases most common today.
"Why does modern medicine find it so hard to look at, and accept, many of these simple truths?"
Dr. Melvin E. Page 1968
Showing all 10 results