Why purchase Nutritec?
Nutritec has been the leader in clinical nutrition software since 1996. Nutritec is not just a symptom survey software program. It was designed as a clinical program that references several IFNH manuals: Clinical Reference Guide, Mastering Nutrition with the Symptom Survey, Therapeutic Food Manual, Herbal Reference Guide, and The Product Bulletins. Nutritec supports the practitioner's clinical needs ranging from the Nutritional Exam to Common Symptoms, as well as many other clinical functions.
Basic features include: Symptom Survey, Nutritional Exam, Patient notes, a database of more than 180 'common' symptoms directly from Dr. Royal Lee's Therapeutic Food Manual, patient support handouts, Word and HTML reports
Additional modules for annual subscriptions: Networking module (2 seats included), Web module + web access, Endocrine (Page Body Measurements) module, Blood Chem module
Nutritec is not a programmer's idea of what clinical nutrition software should be. It is a clinical nutrition software designed by and for practitioners. IFNH would like to thank the following clinicians for their contributions: Jeremy Kaslow, MD; James Murphy, DO; Kerry Bone, BSc (Hons); Robert Curry, DC; Michael Dobbins, DC; Stuart F. White, DC, DACAB, CCN; Angela Hywood, ND; Bruce Pacetti, DDS; Jay Robbins, DC; David Minzel, PhD; Art Capperauld, DC; Linda Ryan, ND (Aus); Ernest Caldwell, DC; Michael Carter, DC; Thanks in memoriam for the contributions of Leo Roy, MD, ND & Robert Peshek, DDS.
Nutritec is designed to help the practitioner support his patients and increase compliance while learning the basics of foundational nutrition based on the scientific research of the nutritional pioneers. The patient handouts are easy to read and designed for the patient. The practitioner descriptions are not just a copy of tech sheets, they were designed to give the practitioner in depth product knowledge. Nutritec can run over 2,400 calculations while looking for the root cause of the patient's problem(s).
The Symptom Survey section is based on IFNH's Mastering Nutrition with the Symptom Survey manual and is based on the original 224 questions. Nutritec gives the practitioner an easy to use, computer based tool that insures patient compliance while supporting the practitioner.  Additional modules available to purchase include: Blood Chemistry and Web-based Symptom Survey (plus web server access) for clients.
A $50 general membership with IFNH will save you $100, making Nutritec software only $195, and with your yearly membership all updates and technical support is free.
Nutritec is designed only for professional researchers and healthcare practitioners and not intended for the layperson or as medical advice.
User-friendly
Nutritec offers four different methods of easy entry from a 10 key pad to a web module that has the patient do all the data entry.
Full networking capabilities.
Comprehensive interactive tutorial.
Download Nutritec Software 30 Day Demo
Download a copy of the 224-question Symptom Survey form that looks at the root cause and the basic issues that upset your body chemistry in Spanish and/or in English.
Click here to download the Nutritec Brochure
Technical Support
Nutritec programmers have a total of over 40 years experience with advanced degrees.
Nutritec offers free technical support and updates to IFNH members.
IFNH offers to all of its members not only support for Nutritec software, but the how and why of clinical nutrition. For more information look at our distance learning program on whole food nutrition (CCWFN).
When you buy Nutritec you're not just buying a software program but joining a network of practitioners over 6000 strong!

Retail: $305.00
General Membership Discount: $205.00
Professional Membership/Certification Discount: $205.00
Add to cart
Please Note: There is a $10 Nutritec Set-Up Charge for the initial purchase.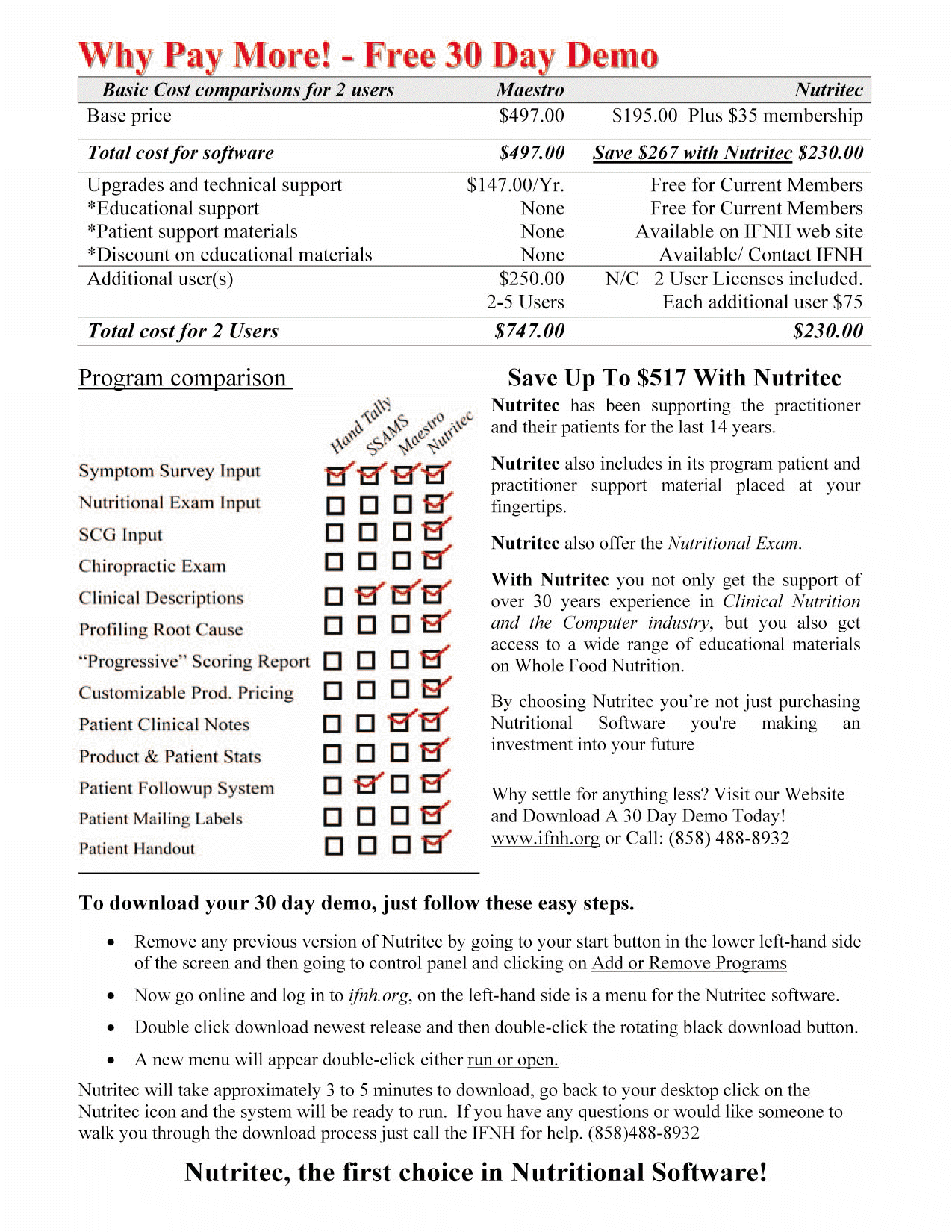 Nutritec examines the impact of lifestyle & diet and how your system is effected by over consumption of refined carbohydrates and sugars. As an example, a diet high in refined carbohydrates (white flour and sugar) will disrupt digestion, vitamin B, E, & calcium metabolism. One teaspoon of sugar can disrupt your body chemistry for up to 72 hours. The average American consumes between 140 and 220 pounds of sugar per year. Primitive man consumed less than one pound per year. This over consumption will ultimately congest liver and gall bladder functions. This congestion will eventually lead to toxicity in your body resulting in aches & pains, mental sluggishness, and fatigue just to name a few.
The Nutritec program identifies these root causes using the information provided by you in your symptom survey. Your health practitioner uses the findings of Nutritec to plan a course of action to prevent further escalation of problems or even eliminate them and as a proactive means of promoting good health. As the age old adage says: "An ounce of prevention is worth a pound of cure."
Click here to download the Nutritec Brochure.

Please Note: There is a $10 Nutritec Set-Up Charge included in the total price. 
Retail: $305.00
General Membership Discount: $205.00
Professional Membership/Certification Discount: $205.00
Add to cart