Click to download the newest release
For version 2.90 or older (see below)
Click to download a free 30-day demo of the newest release
NOTE: You can only run Nutritec under Windows emulation, not Macs at this time.
***You will be prompted to create a Registration if you would like to purchase Nutritec. If you are just downloading the 30-day demo, you do not need to register.
Nutritec's unique features:
– designed only for health practitioners and professional researchers
– incorporates the Nutritional Exam and the original 224-question Symptom Survey Form to provide an individualized program to best fit your needs
– practitioner receives concise analytical reports based on many factors
– Clients/patients receive easy-to-understand reports and recommendations based on their health concerns
– Feature to create 'external' notes for client/patient and 'internal' notes for practitioner
– offers additional modules (require annual subscriptions): Blood Chem Module, Web Module + web access, Endocrine Module, Networking Module
– has been HIPAA compliant since 1996
To INSTALL:
MAKE SURE YOU DOWNLOAD THE LATEST VERSION (click link above):
You need not re-purchase Nutritec unless your membership is expired or you are adding modules. From your Nutritec homepage, click 'Register' (top left corner) and 'register' again. Proceed as follows (see image below):
1. Fill in your clinical information and payment info at the top.
_
2. Select:
a. purchasing for the first time ($195 + $10 set up=$205 one time payment)
b. updating (free with current membership)
c. or reinstalling on a new computer (free with current membership)
_
3. Select your desired additional modules (annual subscriptions):
a. Blood Chem Module
b. Endocrine (Page Body Measurements) Module
c. Symptom Survey Web Module + web access
d. and/or Networking Module (includes 2 seats/computers)
Click on 'Pricing' to see all the prices for these annual subscriptions.
_
4. Select 'Screen' or 'PDF' for the destination of your invoice and registration form. If you receive an error with 'PDF,' select 'Screen' and print as a pdf file (versus to a printer).
_
5. Click 'Create/Fax Form' – This creates your registration form. Save it somewhere you will remember to email or fax with the 'regrequest.mem' file you are about to create.
_
6. Now click 'Send info to File' – This creates your registration keys request based on what you selected in #2 and #3 above. Save this 'regrequest.mem' file somewhere you will remember.
Now attach BOTH the
'regrequest.mem' file + your registration form
to
ifnh@ifnh.org
.
_
7. Once IFNH receives your two files, IFNH will email you a 'reginfo.mem' file with the final instructions.
If you run into any issues, we are here to help! Email:
ifnh@ifnh.org
, phone: 858-488-8932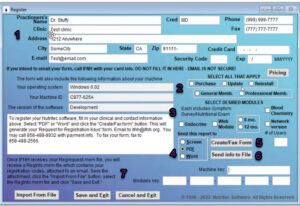 Feel free to contact us with any questions or schedule a Zoom session to walk you through the process: 858-488-8932 or email ifnh@ifnh.org. We are always looking for ways to improve our support of your practice. Thank you!
For version 2.90 or older:
REMOVE ALL PREVIOUS VERSIONS OF NUTRITEC
Press Windows "Start" "Control Panel" "Add Remove Programs", select "Nutritec" and then "Remove" your old data will not be lost.
Now reinstall the latest version of Nutritec by clicking "Download" button above.
Choose "Open" or "Run" on the installation menu when requested by Windows.If Nutritec Software has been installed on a drive other the "C", click "Change" in the Destination directory window and change the destination to INCLUDE THE COMPLETE PATH where it was previously installed.After installation is complete, click on the Nutritec logo on your desktop. You will have to print the fax form and request NEW registration keys for this new version. There is no fee if you already paid for an earlier version and are a current member of IFNH.
For more information on the web module contact us at 858-488-8932.
License agreement
By using this software, you accept the following terms of this License Agreement. If you do not agree with these terms, you should not use the software and promptly return it for a refund.
Ownership
Nutritec Software retains the ownership of this copy of the enclosed software package. It is licensed to you for use under the following conditions:
Grant of License
You may only concurrently use the enclosed software on the number of computers granted by this license (i.e., single user version license, one concurrent usage). If the number of users of the software exceeds the licenses, you must have a reasonable process in place to assure that the number of persons concurrently using the software does not exceed the number of licenses.
You may transfer this software to another party if the other party agrees to the terms and conditions of the agreement completes and returns a registration card to Nutritec Software. The registration card is available by writing to Nutritec Software. If you transfer the software, you must simultaneously transfer all documentation and disks.
Restrictions
You may not copy the documentation or software except as described in the installation section of this manual. You may not distribute, rent, sub license, or lease the software or documentation, including translating, decompiling, disassembling, or creating derivative works. You may not reverse engineer any part of this software or produce any derivative work. You may not make a telecommunication transmittal of this software.
Termination
This license and your right to use this software automatically terminates if you fail to comply with any provision of this license agreement.
Rights
Nutritec Software retains all rights not expressly granted. Nothing in this license agreement constitutes a waiver of Nutritec Software's rights under the U. S. copyright laws or any other Federal or State law.
License Agreement
Nutritec Software excludes any and all implied warranties, including warranties of merchantability and fitness for a particular purpose, and limits your remedy to return the software and documentation to Nutritec Software for replacement.
Although Nutritec Software has tested the software and reviewed the documentation, NUTRITEC SOFTWARE MAKES NO WARRANTY OF REPRESENTATION, EITHER EXPRESSED OR IMPLIED, WITH RESPECT TO THIS SOFTWARE OR DOCUMENTATION, ITS QUALITY, PERFORMANCE, MERCHANTABILITY, OR FITNESS FOR A PARTICULAR PURPOSE. AS A RESULT, THIS SOFTWARE AND DOCUMENTATION ARE LICENSED "AS IS" AND YOU, THE LICENSEE, ARE ASSUMING THE ENTIRE RISK AS TO ITS QUALITY AND PERFORMANCE.
IN NO EVENT WILL NUTRITEC SOFTWARE BE LIABLE FOR DIRECT, INDIRECT, SPECIAL, INCIDENTAL, OR CONSEQUENTIAL DAMAGES ARISING OUT OF THE USE OR INABILITY TO USE THE SOFTWARE OR DOCUMENTATION, even if advised of the possibility of such damages. In particular, Nutritec Software shall have no liability for any data stored or processed with this software, including the costs of recovering such data.
THE WARRANTY AND REMEDIES SET FORTH ABOVE ARE EXCLUSIVE AND IN LIEU OF ALL OTHERS, ORAL OR WRITTEN, EXPRESSED OR IMPLIED. No Nutritec Software dealer, agent, or employee is authorized to make any modifications or additions to this warranty.
Information in this document is subject to change without notice and does not represent a commitment on the part of Nutritec Software. The software described in this document is furnished under this license agreement. The software may be used or copied only in accordance with the terms of the agreement. It is against the law to copy the software on any medium except as specifically allowed in the license agreement. No part of this manual may be reproduced or transmitted in any form or by any means, electronic or mechanical, including photocopying and recording, for any purpose without the written permission of Nutritec Software. Some states do not allow the exclusion of implied warranties or liability for incidental or consequential damages, so the above limitation or exclusion may not apply to you. This warranty gives you specific legal rights, and you may also have other rights, which vary from state to state.
DISCLAIMER OF WARRANTIES: YOU AGREE THAT NUTRITEC SOFTWARE HAS MADE NO EXPRESS WARRANTIES TO YOU REGARDING THE SOFTWARE AND THAT THE SOFTWARE IS BEING PROVIDED TO YOU "AS IS" WITHOUT WARRANTY OF ANY KIND. ADOBE DISCLAIMS ALL WARRANTIES WITH REGARD TO THE SOFTWARE; EXPRESS OR IMPLIED; INCLUDING; WITHOUT LIMITATION; ANY IMPLIED WARRANTIES OF FITNESS FOR A PARTICULAR PURPOSE; MERCHANTABILITY; MERCHANTABLE QUALITY OR NONINFRINGEMENT OF THIRD PARTY RIGHTS. Some states or jurisdictions do not allow the exclusion of implied warranties; so the above limitations may not apply to you.
LIMIT OF LIABILITY: IN NO EVENT WILL NUTRITEC SOFTWARE BE LIABLE TO YOU FOR ANY LOSS OF USE; INTERRUPTION OF BUSINESS; OR ANY DIRECT; INDIRECT; SPECIAL; INCIDENTAL; OR CONSEQUENTIAL DAMAGES OF ANY KIND (INCLUDING LOST PROFITS) REGARDLESS OF THE FORM OF ACTION WHETHER IN CONTRACT; TORT (INCLUDING NEGLIGENCE); STRICT PRODUCT LIABILITY OR OTHERWISE; EVEN IF NUTRITEC SOFTWARE HAS BEEN ADVISED OF THE POSSIBILITY OF SUCH DAMAGES. Some states or jurisdictions do not allow the exclusion or limitation of incidental or consequential damages; so the above limitation or exclusion may not apply to you.