Henry R. Harrower, MD.(1883-1953)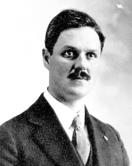 One of the early pioneers, Dr. Henry R. Harrower was considered the father of functional endocrinology during the first part of the 1900s. His textbook, Practical Endocrinology, is the foundation of many of today's writings on the relationships of the endocrine system. This manual was first published by the Harrower Laboratory in Glendale California and later re-published by the Lee Foundation for Nutritional Research. The text in Practical Endocrinology goes into an extensive discussion on the endocrine system and it's relationships between the different glands.
Dr. Harrower and many of his colleagues found themselves under attack for their use of endocrine extracts; many of these extracts were used in a homeopathic manner, which was looked upon with disfavor by the fledgling pharmaceutical industry. Because of his work in 1921, Harvey Cushing (a noted neurosurgeon and endocrinologist) headed an assault on practitioners doing what was known as pluriglandular therapy, singling out Dr. Harrower and his work as a nonscientific approach to medicine. In the early part of the 1900s, pluriglandular therapy was the oral use of hormonal extracts that initially was met with great success. Unfortunately, with long-term use, the gland would tend to atrophy.
Dr. Harrower's academic contributions to the understanding of the relationships of the glands that make up the endocrine system unfortunately were not the focus of his adversaries towards the end of his life. Their total focus was on the natural endocrine extracts produced by Harrower Laboratory, which overshadowed his academic contributions. Dr. Harrower's description and understanding of function sets him apart in a world where surgery and synthetic hormones have become prevalent. Today Harrower's endocrine chart shows those functional co-relationships in a classic manner that can never be denied.
Showing all 5 results